Written by Ardent Editor on August 20, 2017 – 4:55 pm -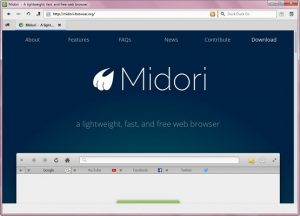 There are some computers today that cannot seem to keep up with the newer software tools that require heavy resources before you can use them. Some notebooks and basic laptops may not always have the required memory to make use of some tools. Sometimes as the user have increased use of their computer's memory, there may be a need to have some software or online tools that can save up some precious memory in order not to put too much strain on the device. When it comes to a web browser alternative for Windows 10, Midori can be a good choice.
The Midori web browser is a lightweight and yet powerful alternative when it comes to free web browsers. It is designed to be simple, easy to use and fast, making it an ideal alternative for saving up on computer resources. Despite this, it is also designed with beautiful aesthetics to make it pleasing to use. It also contains other features important and essential to some of the more conventional web browsers such as bookmarks, RSS, spell checker as well as security settings. The simple design allows users to enjoy more real estate for the websites they check upon online. The big-button interface make it easy to use for those who may have poor eyesight.
The Midori web browser is free and open source, making it ideal for others to further improve on its features by introducing their own enhancements. There is also a portable version of the web browser, which allows users to save up on precious computer memory by running the browser straight from an external or a thumb drive. Downloading the web browser is free and will take only from around 38MB to 54MB, quite light and ideal for computers and devices having limited available memory.
Image Source: Midori
Tags:
midori browser
Posted in
Browsers & Plugins
|
Comments Off

on Midori Web Browser For Windows 10